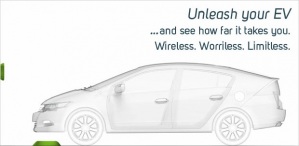 Google sure likes to incubate next-gen electric car tech. The search engine giant's latest project was announced Monday morning and Google says it has installed a wireless electric car charger, developed by a company called Evatran, to charge up plug-in cars on its Mountain View, Calif. campus. The installation is the first public trial of Evatran's wireless charging tech, which Evatran unveiled last Summer.

Evatran's "Plugless Power" electric vehicle charger uses "proximity charging" technology to charge up electric vehicles. The Plugless Power unit works via the combination of a parking block installed on a garage floor or parking lot, a connected tower that detects if the car is charging (and also has a cord option), and finally a unit installed underneath the bottom of the car itself. The parking block and the device installed under the car wirelessly connect when the car drives over the block, and the battery starts charging.

Proximity charging like Evatran's use magnetic induction, where two magnetic coils — one inside a charging pad and one inside a device — connect to allow a charge while the device is sitting on the pad (here's 10 Things to Know About Wireless Charging). Cell phones, gadgets and laptops have been the focus of much of the innovation behind this technology, but increasingly automakers and plug-in vehicle charging companies have been working on the tech.

Nissan told the UK Guardian a couple years ago that it has already worked wireless charging into the design for its all-electric vehicle, with the goal to ultimately make charging quicker and easier than it is with today's cords and plugs. Evatran says it has had interest from several major automakers.

The lack of efficiency of the power transfer has been the big road block for magnetic induction. As Stacey on GigaOM recently pointed out, efficiency rates commonly range from 50-70 percent using magnetic induction, and can transfer 5 watts of power, according to Menno Treffers, chairman of the Wireless Power Consortium.
An Evatran spokesperson told me last year that the company's proximity charging uses an enhanced version of magnetic induction that makes the charging very efficient. Currently the prototypes are getting just under 80 percent efficiency says Evatran, but the company says it will only bring a product to market with 90 percent efficiency.

Wytheville, Virginia-based Evatran is a spinoff from MTC Transformers a company founded in 1985 that makes specialized electrical transformers for niche markets. Evatran was started in April 2009 and was spun out of MTC. Evatran also told me last year that the Plugless Power devices would cost around $3,800 and would go on sale April 2011.

One of the big hurdles for the technology is that without any automakers signed on yet, users have to have their cars retrofitted with the charging device. Google has retrofitted one of its cars to test out the wireless charger on its campus. That's a significant cost in the early days for the startup.

In a few years down the road, the plug-free electric vehicle charging industry could become substantial and wireless charging is already starting to become more mainstream for gadgets. Global shipments of gadgets capable of proximity charging are estimated to jump nearly 70 times by 2014 from the 3.5 million units expected to sell this year, according to research firm iSuppli. More than 234 million such consumer devices with wireless charging are expected to be shipped over the next four years, including cell phones, media players, digital cameras and small computers, with initial adoption coming from cell phones.

Google has a significant plug-in car program for a company that doesn't have a core business in autos. Google.org — Google's philanthropic arm — has its RechargeIT program, that collects data from plug-in cars and connected vehicles on Google's campus. Google Ventures — Google's VC arm — has also invested in neighborhood car sharing company RelayRides, Next Auto Networks, a company that's working on efficient vehicles, and biofuel company CoolPlanetBiofuels.

Images courtesy of Evatran and Google.

Story courtesy of www.gigaom.com