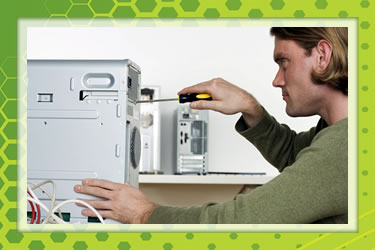 Our computer repair department is a cut above the rest. Our technicians have many years of experience and get the job done right, the first time. If you are experiencing slowness or your computer is not working properly – we can help! Our services include things like: virus removal, modem installation, data backup & restore, antivirus installation, critical updates and installation of service packs.

If your computer isn't working properly, we can help! Below is a list of our services and prices:


Bench Fee:

$35.00

(minimum fee for any diagnostics or repairs-covers the first 30 minutes)
Critical Updates and Service Packs Installed:

$50.00

Install Free Antivirus and Spyware Software (no scan):

$35.00

Modem Installation (does not include cost of modem):

$35.00

 
Install Modem Drivers and Verify Internet Connection:

$35.00

Check System for possible upgrades (Operating System, Memory, Hard Drive, etc). Call customer with options and costs:

$35.00

New Computer Prep-Install All Windows Updates, Service Packs, Antivirus, Burn Backup CDs:  

$50.00

Virus Cleanup: Virus Scan and Removal and Free Virus Protection:

$125.00

Install Windows XP/Vista/Windows 7 and Service Packs, Install Critical Updates, Install Anti-Virus, Setup Internet with Provided Information:

$125.00

Data Backup and Restore-Can backup "My Documents", Email messages/Address book, Favorites, Photos & Music and restore on new Windows reload or hard drive:

$50.00

total for up to 700 MB.

$10

extra per GB after 700 MB.

Please check site for any specials that we may be having!!