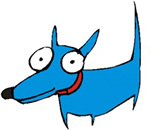 For over 10 years, Wiredog has been the internet service provider portion of Professional Networks, Inc. (PRONETS). In order to provide the best service to their business clients as well as Wiredog Internet customers, PRONETS decided to sell the ISP portion (dial up and high speed) to MGW Communications out of Williamsville, Virginia in late October. There is a video of the signing of the documents located at http://youtu.be/mxeZjgOZ404.
MGW Communications is a technology, Internet, and telephone service provider seeking to bring cutting edge technologies to the rural areas of Virginia. The MGW Family of companies has been in business since 1967. They provide all forms of technologies from VOIP to fiber to the home. Of course, the decision was difficult as Wiredog has been such a large portion of PRONETS over the years. John Ayers, President of PRONETS said "Thanks to everyone for their dedication to Wiredog over the years.  I am very pleased we have found him a good home. I'll miss the little fella."
PRONETS will now be able to offer a higher level of customer service to their business clients for networking and web development needs. The company will also continue to offer home user PC Repair at their Galax, Virginia office.
Question: Did PRONETS get bought by another company?
Answer: No way! PRONETS sold the internet service provider portion (Wiredog). This includes high speed wireless & DSL, dial up and the Independence Fiber network. PRONETS is still owned and operated by the same folks that have been running the business for 13 years.
Question: Why did you sell Wiredog?
Answer: The decision to sell Wiredog was hard as it has been a big part of PRONETS for years. However, we realized that we could provide better service to our PRONETS business clients and that MGW could provide better internet service to Wiredog customers with this arrangement. In the end, all of our customers win!
Question: Is the PRONETS office moving?
Answer: No. The PRONETS office will remain at 307 Meadow Street in Galax (our location for the past two years). The new Wiredog office will be located at 118 East Stuart Drive, Galax (old Appliances of Quality/Vac Shop building).
Question: How are your services changing?
Answer: Our business to business service will definitely improve now that we have more time to devote to our networking and website clients. We'll still be offering home user computer repair as we have been for years.
Please contact Mandy Nester with any questions at This e-mail address is being protected from spambots. You need JavaScript enabled to view it .

For updated news about PRONETS, visit their website at www.pronetsinc.com.