| | | |
| --- | --- | --- |
| Sept. News – Be Prepared for Business Disasters & Protect Your Assets | | |
Thursday, 20 September 2012 10:51
Did you know that September is National Disaster Preparedness Month? In this month's PRONETS newsletter, we ask the question "How quickly could your business recover after a disaster?" If you don't know, let us help you find the answer. Here are a few other interesting reads this month:
• What does the Town of Pulaski have to offer?
• Reduce employee turnover
• Protect your small business assets
Take a few minutes and read our newsletter and let us know if there's a topic you'd like to see covered in a future edition. Read it now at http://www.pronetsinc.com/newsletter.
Happy Networking!
PRONETS
| | | |
| --- | --- | --- |
| July 2012 Newsletter | | |
Thursday, 19 July 2012 14:24
July marks the middle of the year - where has it gone?! Our newsletter is chocked full of good information, as usual. Some of the interesting topics covered this month are:
Put 30 minutes or more back into your day
Market your business on Pinterest
Using Google calendar as a project management tool
How to increase your productivity by 30% or more
Click the image below to get all the juicy details!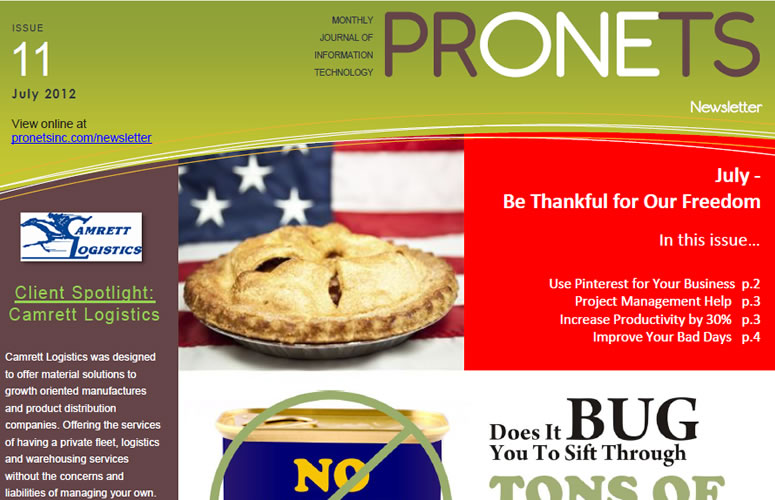 Page 1 of 12