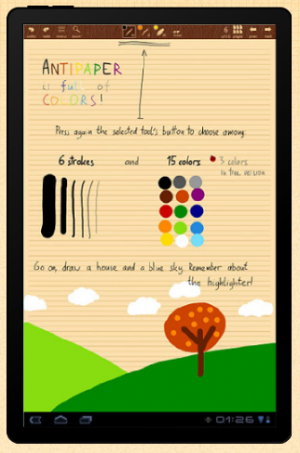 Are you tired of tapping out words and sentences on your smartphone or tablet? Here are some handwriting apps for taking notes that may save you time and headache!
Notes Plus (iPad, $7.99): Few handwriting apps can top Notes Plus. Its powerful handwriting-recognition engine parses scrawl by fat fingers and slim styli alike, sharpens hastily drawn shapes, and enables you to edit notes or drag-and-drop whole sections to other areas.
Penultimate (iPad, 99 cents): If you don't need the extra features of Notes Plus, Penultimate is a highly regarded — and cheap — handwriting app that also happens to be an iPad exclusive.
Antipaper Notes (Android tablets, free; $5.49 upgrade available): Not every tablet sports Apple's iconic logo. Hordes of happy Android users say that Antipaper Notes is the best tablet-optimized handwriting app available for Google devices — and the basic version is free.
PenSupremacy (Android, $1.49): PenSupremacy offers a little more flexibility than Antipaper Notes. The app works on Android phones and tablets, for one thing, and it can export PDFs of your notes via email, Evernote, Facebook, and various other means.
WritePad (iOS, $3.99; Android, $9.99): WritePad doesn't even try to save your notes in shorthand. Basically, you scribble your notes on the screen, and when you pause WritePad converts them to text. Even better, the software adapts to your chicken scratch and grows more accurate the more you use it.
Read more: http://blog.intuit.com/trends/5-handwriting-apps-for-taking-notes-on-your-tablet-or-smartphone/#ixzz2HIyp3BtV